Reports in STEM Education
Committee on Equal Opportunities in Science and Engineering (CEOSE) Accountability for Broadening Participation in STEM https://www.nsf.gov/od/oia/activities/ceose/
The Committee on Equal Opportunities in Science and Engineering is pleased to share its 2015-2016 Biennial Report to Congress. In her letter transmitting the report to Congress, NSF's Director, France A. Córdova wrote: "This report provides valuable insights as NSF and the research community continue to explore and implement innovative approaches to broadening participation in STEM"
This is not an exhaustive list but a short compilation of National reports, publications, and recommendations for STEM Education.
(2019) National Academies of Sciences, Engineering, and Medicine; Policy and Global Affairs; Board on Higher Education and Workforce; Committee on Effective Mentoring in STEMM; Angela Byars-Winston and Maria Lund Dahlberg, Editors
"Mentorship is a catalyst capable of unleashing one's potential for discovery, curiosity, and participation in STEMM and subsequently improving the training environment in which that STEMM potential is fostered. Mentoring relationships provide developmental spaces in which students' STEMM skills are honed and pathways into STEMM fields can be discovered. Because mentorship can be so influential in shaping the future STEMM workforce, its occurrence should not be left to chance or idiosyncratic implementation. There is a gap between what we know about effective mentoring and how it is practiced in higher education.
The Science of Effective Mentorship in STEMM studies mentoring programs and practices at the undergraduate and graduate levels. It explores the importance of mentorship, the science of mentoring relationships, mentorship of underrepresented students in STEMM, mentorship structures and behaviors, and institutional cultures that support mentorship. This report and its complementary interactive guide present insights on effective programs and practices that can be adopted and adapted by institutions, departments, and individual faculty members."
Minority-Serving Institutions

America's Underutilized Resource for Strengthening the STEM Workforce

 

(2019)
"There are over 20 million young people of color in the United States whose representation in STEM education pathways and in the STEM workforce is still far below their num
bers in the general population. Their participation could help re-establish the United States' preeminence in STEM innovation and productivity, while also increasing the number of well-educated STEM workers.
There are nearly 700 minority-serving institutions (MSIs) that provide pathways to STEM educational success and workforce readiness for millions of students of color—and do so in a mission-driven and intentional manner. They vary substantially in their origins, missions, student demographics, and levels of institutional selectivity. But in general, their service to the nation provides a gateway to higher education and the workforce, particularly for underrepresented students of color and those from low-income and first-generation to college backgrounds. The challenge for the nation is how to capitalize on the unique strengths and attributes of these institutions and to equip them with the resources, exceptional faculty talent, and vital infrastructure needed to educate and train an increasingly critical portion of current and future generations of scientists, engineers, and health professionals.
Minority Serving Institutions examines the nation's MSIs and identifies promising programs and effective strategies that have the highest potential return on investment for the nation by increasing the quantity and quality MSI STEM graduates. This study also provides critical information and perspective about the importance of MSIs to other stakeholders in the nation's system of higher education and the organizations that support them."
In order for the United States to maintain global leadership and competitiveness in science and technology that are critical to achieving national goals, we must invest in research, encourage innovation, and grow a strong and talented science and technology workforce. Expanding Underrepresented Minority Participation explores the role of diversity in the science, technology, engineering and mathematics (STEM) workforce and its value in keeping America innovative and competitive. According to the book, the U.S. labor market is projected to grow faster in science and engineering than in any other sector in the coming years, making minority participation in STEM education at all levels a national priority.
More and more young people are learning about science, technology, engineering, and mathematics (STEM) in a wide variety of afterschool, summer, and informal programs. At the same time, there has been increasing awareness of the value of such programs in sparking, sustaining, and extending interest in and understanding of STEM. To help policymakers, funders and education leaders in both school and out-of-school settings make informed decisions about how to best leverage the educational and learning resources in their community, this report identifies features of productive STEM programs in out-of-school settings. Identifying and Supporting Productive STEM Programs in Out-of-School Settings draws from a wide range of research traditions to illustrate that interest in STEM and deep STEM learning develop across time and settings. The report provides guidance on how to evaluate and sustain programs. This report is a resource for local, state, and federal policy makers seeking to broaden access to multiple, high-quality STEM learning opportunities in their community.
STEM Integration in K-12 Education: Status, Prospects, and an Agenda for Research (2014)


STEM Integration in K-12 Education examines current efforts to connect the STEM disciplines in K-12 education. This report identifies and characterizes existing approaches to integrated STEM education, both in formal and after- and out-of-school settings. The report reviews the evidence for the impact of integrated approaches on various student outcomes, and it proposes a set of priority research questions to advance the understanding of integrated STEM education. STEM Integration in K-12 Education proposes a framework to provide a common perspective and vocabulary for researchers, practitioners, and others to identify, discuss, and investigate specific integrated STEM initiatives within the K-12 education system of the United States. STEM Integration in K-12 Education makes recommendations for designers of integrated STEM experiences, assessment developers, and researchers to design and document effective integrated STEM education. This report will help to further their work and improve the chances that some forms of integrated STEM education will make a positive difference in student learning and interest and other valued outcomes.
Science and Engineering for Grades 6-12: Investigation and Design at the Center
This report released in November 2018 from the Board on Science Education and the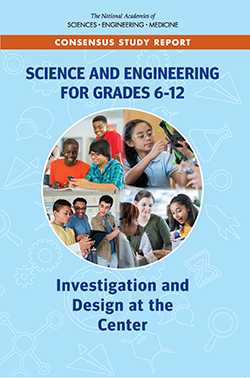 National Academy of Engineering Education,  shows that one effective way to help students learn is to engage them in science investigation and engineering design by asking questions, collecting and analyzing data, and using this evidence to better understand the natural and built world. Science investigation and engineering design are heavily emphasized in A Framework for K-12 Science Education and the Next Generation Science Standards, which are now guiding the science education of many U.S. students. But this entails a dramatic shift from the traditional classroom dynamic, and teachers will need support and guidance as they implement this approach. The report describes evidence-based ways that teaching and learning can shift toward science investigations and engineering design to help realize this new vision in the classroom. The report provides guidance for teachers, administrators, providers of professional development, and creators of instructional materials on how to support students and teachers as they learn and instruct in this way.
Sponsors: The Amgen Foundation and The Carnegie Corporation of New York
Read the summary  |  Read the report  |  Read the press release |  Read the highlights |  Interactive Infographic
__________________________________________________________
Related Reports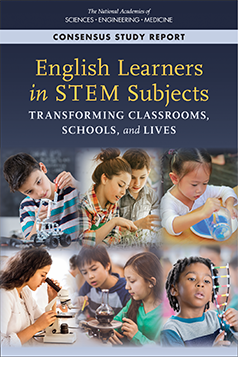 English Learners in STEM Subjects: Transforming Classrooms, Schools, and Lives (2018)
Released in October 2018, this publication from the Board on Science Education and the Board on Children, Youth, and Families calls for a shift in how science, technology, engineering, and mathematics (STEM) subjects are taught to students in grades preK-12 who are learning English. The report recommends strategies for instruction in the classroom, requisite tools educators need, and ways for building capacity in schools and districts so that English learners have opportunities to develop proficiency in both STEM subjects and language.
___________________________________________________________


Design, Selection, and Implementation of Instructional Materials for the Next Generation Science Standards (2018)
This report examines how evidence based on research relevant to the development of DLLs/ELs from birth to age 21 can inform education and health policies and related practices that can result in better educational outcomes. This report makes recommendations for policy, practice, and research and data collection focused on addressing the challenges in caring for and educating DLLs/ELs from birth to grade 12.
______________________________________________________________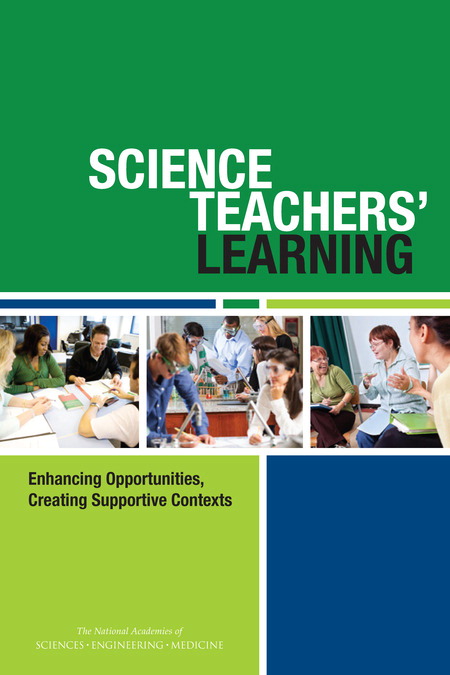 Science Teacher's Learning: Enhancing Opportunities, Creating Supportive Context (2015)
This report reviews research on science investigations and engineering design problems for middle and high school students and explores promising models of innovative investigations and experiences both inside and outside the classroom. Through published research, this report provides ideas for teaching and learning, and incorporates the new vision for science education embodied in the Framework and the NGSS. The resulting report will provide guidance for designing science investigations and engineering design problems for middle and high school students that align with this vision. 
___________________________________________________________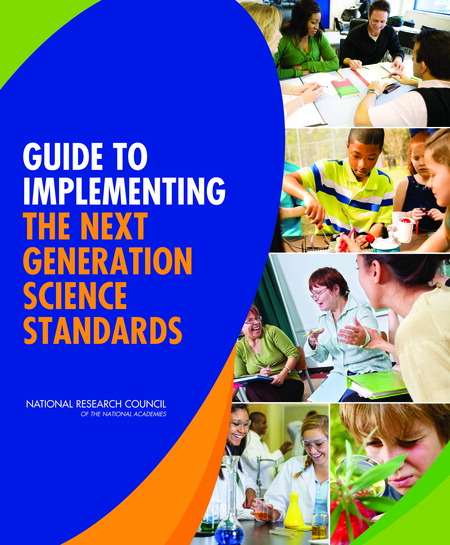 Guide to Implementing the Next Generation Science Standards (2015)
Guide to Implementing the Next Generation Science Standards provides guidance to district and school leaders and teachers charged with developing a plan and implementing the NGSS as they change their curriculum, instruction, professional learning, policies, and assessment to align with the new standards. For each of these elements, this report lays out recommendations for action around key issues and cautions about potential pitfalls. As a foundation for that process, Guide to Implementing the Next Generation Science Standardsidentifies some overarching principles that should guide the planning and implementation process.
___________________________________________________________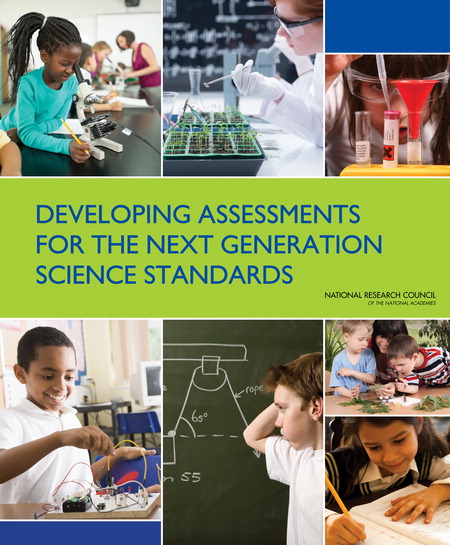 Developing Assessments for the Next Generation Science Standards (2014)
Developing Assessments for the Next Generation Science Standards develops an approach to science assessment to meet the vision of science education for the future as it has been elaborated in A Framework for K-12 Science Education (Framework) and Next Generation Science Standards (NGSS). This report recommends strategies for developing assessments that yield valid measures of student proficiency in science as described in the new Framework. The report offers a systems approach to science assessment, in which a range of assessment strategies are designed to answer different kinds of questions with appropriate degrees of specificity and provide results that complement one another. The recommendations of this report will be key to making sure that the dramatic changes in curriculum and instruction signaled by Framework and the NGSS reduce inequities in science education and raise the level of science education for all students.
____________________________________________________________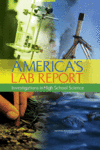 America's Lab Report: Investigations in High School Science (2006)
With increased attention to the U.S. education system and student outcomes, no part of the high school curriculum should escape scrutiny. This timely book investigates factors that influence a high school laboratory experience, looking closely at what currently takes place and what the goals of those experiences are and should be. Science educators, school administrators, policy makers, and parents will all benefit from a better understanding of the need for laboratory experiences to be an integral part of the science curriculum�and how that can be accomplished.
Building the Future: Investing in Discovery and Innovation – NSF Strategic Plan for Fiscal Years (FY) 2018 – 2022
PDF: https://www.nsf.gov/pubs/2018/nsf18045/nsf18045.pdf?WT.mc_id=USNSF_124
Document Number: nsf18045
___________________________________________________________
Undergraduate research has a rich history, and many practicing researchers point to undergraduate research experiences (UREs) as crucial to their own career success. There are many ongoing efforts to improve undergraduate science, technology, engineering, and mathematics (STEM) education that focus on increasing the active engagement of students and decreasing traditional lecture-based teaching, and UREs have been proposed as a solution to these efforts and may be a key strategy for broadening participation in STEM. In light of the proposals questions have been asked about what is known about student participation in UREs, best practices in UREs design, and evidence of beneficial outcomes from UREs.
2017 NSF Women, Minorities, and Persons with Disabilities in Science and Engineering

From the National Science Foundation (NSF) and National Center for Science and Engineering Statistics (NCSES)
Here are some of the key findings about women in STEM from the NSF's annual Women, Minorities, and Persons with Disabilities in Science and Engineering Report updated for 2017:
• Women's participation remains well below that of men at all degree levels and in all fields of engineering.
• Women earn more degrees in chemical, materials, industrial and civil engineering than in aerospace, electrical, and mechanical engineering.
• The number and percentage of computer sciences bachelor's degrees earned by women has declined in the last 10 years.
• Women earn only 20% of physics degrees (at all degree levels) — the lowest of all the physical sciences."
_____________________________________________________________
Successful STEM Mentoring Initiatives for Underrepresented Students
"Successful STEM Mentoring Initiatives for Underrepresented Students illustrates and elucidates Packard's considerable expertise and scholarship on an enduring and, for some disciplines and education settings, a seemingly intractable set of issues. Rather than 'tinkering around the edges' by addressing only several variables, Packard tackles underrepresentation from the perspectives of both students and of the education system they will encounter. This comprehensive systems approach is refreshing and, in many ways, unique. It offers evidence-based advice to those in higher education who are undertaking the critically important work of increasing representation of historically underserved and unserved students and helps readers understand where and how their roles and actions must be based on efforts that have preceded their own and how their own work will influence others in the system as students pass through it on their ways to STEM careers. It is a refreshing and much-needed approach." – Jay B. Labov, Senior Advisor for Education and Communication , National Academies of Sciences, Engineering, and Medicine
___________________________________________________________
Engineering for Every K–12 Student A Landscape Analysis of K–12 Engineering Education in the Greater Boston Region
Engineering for  from the National Science Foundation-funded project, Massachusetts Engineering Innovation and Dissemination Community (MEIDC).
Transfer Playbook Transfer Playbook
National surveys reveal that 80 percent of students who begin in a community college aim to earn a bachelor's degree, but only 14 percent achieve that goal within six years. It doesn't have to be that way. Based on original research into the practices of six highly effective community college-university partnerships, this joint report from the Aspen Institute and Columbia University's Community College Research Center (CCRC) provides a roadmap for how institutions can improve transfer student outcomes by prioritizing transfer, creating clear transfer program maps, and establishing dedicated transfer advising. The report provides concrete examples of essential strategies as well as a checklist of "How to Get Started."
______________________________________________________________
Quality in the Undergraduate Experience: What Is It? How Is It Measured? Who Decides? Summary of a Workshop (2016) 
The STEM Education Coalition today publicly released "The Case for Investing in Out-of-School Learning as a Core Strategy in Improving Science, Technology, Engineering, and Mathematics (STEM) Education." 
This 10-page paper written for policymakers and education leaders makes a strong case for why informal and afterschool learning must be an integral part of policies to improve STEM education across the board. Exposure to formal and informal learning in STEM subjects, beginning at an early age and continuing through high school, prepares our nation's students for the future ahead.  Supporting quality science, technology, engineering, and mathematics education for all children and youth is therefore vital to our country's social and economic prosperity.
National Science Board Science and Engineering Indicators 2016 Report. Science and Engineering Indicators 2016 
Social development and different regional growth trends have produced dramatic shifts in the global landscape of science and engineering (S&E) research, education, and business activities. The international and domestic S&E trends that Science and Engineering Indicators describes can be understood in light of the worldwide trend toward more knowledge-intensive economies and increasing global collaboration and competition in S&E. In the increasingly interconnected world of the 21st century, workers with S&E skills are integral to a nation's innovative capacity and economic competitiveness.
---
National Academy of Sciences, and National Academy of Engineering. Rising Above the Gathering Storm: Energizing and Employing America for a Brighter Economic Future. Washington, DC: The National Academies Press, 2007. doi:10.17226/11463
This congressionally requested report by a pre-eminent committee makes four recommendations along with 20 implementation actions that federal policy-makers should take to create high-quality jobs and focus new science and technology efforts on meeting the nation's needs, especially in the area of clean, affordable energy. Some of the recommendations include: increasing America's talent pool by vastly improving K-12 mathematics and science education, and sustaining and strengthening the nation's commitment to long-term basic research. Some actions will involve changing existing laws, while others will require financial support that would come from reallocating existing budgets or increasing them.
---
Rising Above the Gathering Storm Two Years Later: Accelerating Progress Toward a Brighter Economic Future. Summary of a Convocation. Washington, DC: The National Academies Press, 2009. doi:10.17226/12537
A year after the original Congressional Committee discussed the changes required in science, engineering, and technology fields in America, a convocation was held to commemorate the original report. Two years later, this report reviews the progress made thus far in implementing Gathering Storm recommendations to strengthen K-12 education in math and science, research, higher education, and the environment for innovation. Much work still needs to be done if America is to be a leader in STEM fields in the future.
---
National Research Council. Engineering in K-12 Education: Understanding the Status and Improving the Prospects. Washington, DC: The National Academies Press, 2009. doi:10.17226/12635
"Engineering education in K-12 classrooms is a small but growing phenomenon that may have implications for engineering and also for the other STEM subjects–science, technology, and mathematics. Specifically, engineering education may improve student learning and achievement in science and mathematics, increase awareness of engineering and the work of engineers, boost youth interest in pursuing engineering as a career, and increase the technological literacy of all students. The teaching of STEM subjects in U.S. schools must be improved in order to retain U.S. competitiveness in the global economy and to develop a workforce with the knowledge and skills to address technical and technological issues."
---
National Academy of Sciences, National Academy of Engineering, and Institute of Medicine. Rising Above the Gathering Storm, Revisited: Rapidly Approaching Category 5. Washington, DC: The National Academies Press, 2010. doi:10.17226/12999
"Where does America stand relative to its position of five years ago when the Gathering Storm book was prepared? Rising Above the Gathering Storm, Revisited provides a snapshot of the work of the government and the private sector in the past five years, analyzing how the original recommendations have or have not been acted upon, what consequences this may have on future competitiveness, and priorities going forward. In addition, readers will find a series of thought- and discussion-provoking factoids–many of them alarming–about the state of science and innovation in America."
---
National Research Council. Standards for K-12 Engineering Education. Washington, DC: The National Academies Press, 2010. doi:10.17226/12990
"The goal of this study was to assess the value and feasibility of developing and implementing content standards for engineering education at the K-12 level. Content standards have been developed for three disciplines in STEM education–science, technology, and mathematic–but not for engineering. To date, a small but growing number of K-12 students are being exposed to engineering-related materials, and limited but intriguing evidence suggests that engineering education can stimulate interest and improve learning in mathematics and science as well as improve understanding of engineering and technology."
---
National Academy of Sciences, National Academy of Engineering, and Institute of Medicine. Expanding Underrepresented Minority Participation: America's Science and Technology Talent at the Crossroads. Washington, DC: The National Academies Press, 2011. doi:10.17226/12984
"Although minorities are the fastest growing segment of the population, they are underrepresented in the fields of science and engineering. Historically, there has been a strong connection between increasing educational attainment in the United States and the growth in and global leadership of the economy. Expanding Underrepresented Minority Participation suggests that the federal government, industry, and post-secondary institutions work collaboratively with K-12 schools and school systems to increase minority access to and demand for post-secondary STEM education and technical training."
---
Revisiting the STEM Workforce: A Companion to Science and Engineering Indicators. 2014 (NSB-2015-10).
"This policy companion to Science and Engineering Indicators (Indicators) 2014 does not attempt to resolve long-standing debates about the workforce. Rather, the report provides a more nuanced, data-driven portrait of the workforce and offers key insights about its character. It is our hope that these insights will help government, education, and business leaders make better and more informed decisions and foster a more productive dialogue about how to maintain a strong, STEM-capable U.S. workforce for the long term."
---
President's Council of Advisors on Science and Technology (2012) Engage to Excel: Producing One Million Additional College Graduates with Degrees in Science, Technology, Engineering, and Mathematics.
"Currently the United States graduates about 300,000 bachelor and associate degrees in STEM fields annually. Fewer than 40% of students who enter college intending to major in a STEM field complete a STEM degree. Better teaching methods are needed by university faculty to make courses more inspiring, provide more help to students facing mathematical challenges, and to create an atmosphere of a community of STEM learners."
---
National Research Council. Discipline-Based Education Research: Understanding and Improving Learning in Undergraduate Science and Engineering. Washington, DC: The National Academies Press, 2012. doi:10.17226/13362
"Preparing a diverse technical workforce and science-literate citizenry will require significant changes to undergraduate science and engineering education. These changes include supporting an emerging, interdisciplinary research enterprise that combines the expertise of scientists and engineers with methods and theories that explain learning. This enterprise, discipline-based education research (DBER), investigates learning and teaching in a discipline from a perspective that reflects the discipline's priorities, worldview, knowledge, and practices."
---
Achieving Systemic Change: A Sourcebook for Advancing and Funding Undergraduate STEM Education; Broad changes to undergraduate teaching practices of science, technology, engineering, and math (STEM) education "can no longer wait," said The Coalition for Reform of Undergraduate STEM Education (CRUSE). To start the path toward these changes the CRUSE organization released, Achieving Systemic Change: A Sourcebook for Advancing and Funding Undergraduate STEM Education.
There is not enough emphasis put on STEM education in the United States, and because of this many people do not end up going into STEM related jobs. This lack of talent in the STEM fields negatively impacts the workforce, and is only getting worse due to changing demographics in the nation. Therefore, it is of the utmost importance to "establish an institutional culture that is committed to excellence and inclusion in STEM education".
---
After School: A Vital Partner in STEM Education Afterschool Alliance, S.D. Bechtel, Jr. Foundation, Time Warner Cable, May 2011 This report makes the case for building after-school partnerships around STEM and expanding the capacity to deliver high-quality informal STEM education.
"Data from several evaluation studies indicate that well-designed, science-rich afterschool programs can be successful in exciting and engaging children and youth about STEM fields and careers. Combined with research studies indicating that early engagement and interest in STEM careers is related to pursuit of such careers, these results support our claim that afterschool programs can contribute meaningfully to the strength and diversity of the nation's STEM workforce and must therefore be a key component of our Nation's STEM learning system."